Sugary drinks are everywhere.
Sugary drinks are everywhere. Pop, fruit punch, energy drinks, sports drinks and many other drinks have a lot of sugar.
Too much sugar is not good for a child's health. The extra calories in sugary drinks can add up quickly. This puts children at higher risk of high blood pressure, heart disease, type 2 diabetes and cancer.
Together, we can drop the pop, drink water, offer better options, and create communities that sip less sugar.
Join the movement! Contribute to healthier children and a healthier community.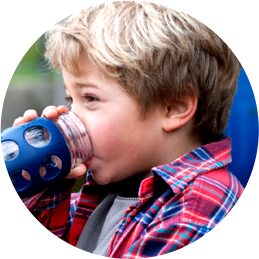 How it works
1
Choose your pledge level—Gold, Silver or Bronze.
2
Complete the pledge form for families or organizations.
3
Receive a certificate and tools to help you take action. Congratulations!