Sip Smart!™ Ontario
Classroom Educational Program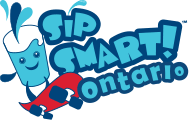 Sip Smart!™ Ontario is a classroom-based educational program that teaches children in grades 3 to 7 about sugary drinks and about making healthy drink choices in a fun and effective way. It was developed to support the learning outcomes for the Ontario Health and Physical Education Curriculum and cross-curricular connections. It is structured for easy use by teachers with handouts, assessment tools, and other teacher resources for each of 5 lesson plans.
Visit brightbites.ca/badge/sipsmart/ to check out the full Sip Smart!™ Ontario Teacher Resource Guide and supplementary materials such as posters and drink cut-outs.
Would you like teachers in your child's school to offer Sip Smart!™ Ontario? Encourage them to check it out by sharing promotional tools:
Sip Smart!™ Ontario in the Community
Families and community groups play a key role in helping children to make healthy drink choices. Click the links below to find out how you can reinforce the classroom messages and promote healthy drink choices.